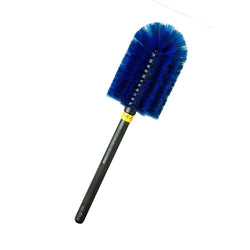 New from EZ Detail - The Go EZ Detail brush!
The original EZ Detail Brush is one of our best selling wheel brushes - it bends, curves, reaches and cleans spaces large and small all over your car.
EZ Detail have now released the Go EZ Detail Brush for areas that require a stiffer brush when cleaning. The Go EZ Detail Brush has a thicker stem than the original EZ brush. This added rigidity makes it perfect for cleaning the outside of wheels, tyres, bumpers and other hard-to-reach areas of your vehicle.
The Go EZ brush still uses the same soft Nylon Nylex bristles, which will not scratch any coated, painted, polished, plated, or blank metal surface. Each bristle has a unique, multi-edge structure that provides excellent cleaning power, and the bristles bounce back to their original shape after each use.
The synthetic bristles are chemical resistant, so feel free to use your favourite wheel cleaner. For the best results no matter what wheels you have, we recommend that you always use a water-based wheel cleaner (some examples are shown below). This safe cleaner contains no caustic agents and will not pit or dull any type of coating.
The Go EZ brush has an ergonomic plastic handle that keeps you comfortable while you clean and it also ensures wheels are protected against scratches when cleaning. The brush has a diameter of approximately 100mm to also clean large wheel openings.
The Go EZ brush expands the EZ Detail range to 3 great versatile brushes. The Go EZ Brush has the same soft non-scratch bristles but uses a different bristle pattern and rigid stem to offer a much different tool compared to the original brush.
Product Size: 400mm x 100mm
Shipping / Returns
For DPD Next Day orders must placed BEFORE 3pm.
Service
Price
Time
DPD Next Day
(excluding Northern Island, Isle of White, Scottish Highlands & Islands)
£5.50
Next Working Day
Free Shipping On Orders Over £55
FREE
3-5 Working Day
Royal Mail 2nd Class - Upto 2kg
£4.45
2-3 Working Day
Royal Mail 2st Class - Upto 5kg
£8.45
2-3 Working Day
Cancellations and Returns If for any reason you wish to cancel your order with us, please send an e-mail to sales@ocdfinish.co.uk We can cancel your order at any time, providing the goods have not been despatched.
In the event that your order has been dispatched, you can return the goods within 7 working days. The goods must be returned in their perfect, unopened condition and sealed in their original packaging. The costs of returning goods to us will be met by you. On receipt of the goods, we will then authorise a refund. We will refund for the cost of the goods only.
The Goods will remain your responsibility until they have been safely delivered to us. We strongly advise that you insure the Goods and get proof of posting in case of loss or damage.
In the event that your parcel is damaged ie leaking please insure you still take delivery as we will need eveidence of it in form of a photo to replace the damaged item . if you refuse the item you do so at your own risk because it is near impossible for us to recover the parcel. I you have any questions regarding our policys via email above.
Return Address:
OCD Finish
Clock House Farm,
Bittell Farm Road,
Barnt Green,
Alvechurch,
B45 8BP
Delivery Policy
Our aim is to dispatch goods as soon as possible, our delivery times refers to the delivery time only and applies when goods are dispatched. Most orders placed before midday will leave the same day on a next day service. If you are not in a rush on a small parcel, please select the second class royal mail service option. All other parcels will be delivered by UK mail in a signed for service so where possible, please ensure somebody is home to take delivery if you are unavailable to take delivery please re-arrange delivery to a time that suits you when you receive the pre-delivery notification as uk mail will only try and deliver your goods once. If you miss your allocated slot your goods will either be available form the depot for you to collect in person or you can contact us via email there is however a re-delivery cost of £5.00 for this service  . Please be aware that in some cases, quoted delivery times can be longer due to high order volumes and unforeseen circumstances.
When entering your delivery address please ensure that you give all the relevant information and that you have double checked your delivery address before processing the order. If the information given is not accurate this will result in us incurring addition delivery costs from our shippers. We reserve the right to pass this cost on to the customer if incorrect information has been given. With this process will we also ask the carrier to hold your parcel until the additional shipping has been paid.
When placing an order from the channel islands or highlands please ensure you select the relevant postage option for your postcode. If this has not been done we will contact you regarding this regarding additional postage costs or refunds. If a refund is required as a result of incorrect postage being selected we reserve the right to pass paypal charges onto you the customer.
For any issues or enquiry's concerning delivery please contact us at sales@ocdfinish.co.uk